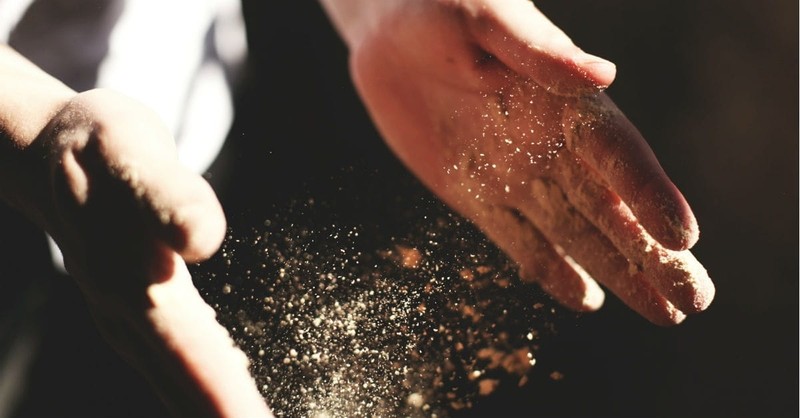 "Though made of dust, we are uniquely made in the image of God."
Have you ever wondered why God created the heavens and earth before he created people?
Well, I have!
And of course, I went to the Lord for my answer.
The first thing the Holy Spirit revealed to me in conversation was the fact that; "The earth is the Lord's, and the fulness thereof; the world, and they that dwell therein". (Psalm 24:1)
And the second thing He revealed was that we, mankind, were made in God's image. (Genesis 1:27)
Go figure!!!
Is that all you've got, Holy Spirit, I asked befuddled. Can You make it a little more comprehensible?
The next thing that happened was my eyes fell upon my library books and migrated along the shelves until finally it landed upon a devotional book I often turn to when I really need to pray with all my might. Written on the first page that fell open to me were these words:
"An old Jewish rabbi once remarked that every person should carry two stones in his pocket. One on which should be written: I am but dust and ashes; while the message written on the other should be: The world was created for my benefit. The rabbi went on to explain that we should use each stone as needed." (*)
So therein lies my answer. God created the world first and all its splendor just for you and me. And what does that say about us. Well, I'll tell you. Man is extremely puny. Helpless. Worthless and incomplete. God knew that we would need help, in order that we should survive. So, He created the earth and its fullness to stand at the ready and to infuse our intellect to search for knowledge. "Ask, and it shall be given you; seek, and ye shall find; knock, and it shall be opened unto you:" (Matthew 7:7)
(*) Note: In Touch with God (The name of the devotional journal,)
My prayer for you…
Dear Heavenly Father…the God of Abraham, Isaac, and Jacob. Please help us to come to the realization that without You and Your provisions, we could do absolutely nothing. We realize that we are wretched and undone. So please help us to be more respectful of the universe and to preserve the environment. Help us to keep our feet on the ground as we obtain vast knowledge on how to safely explore and incorporate the science you allow us to extract from nature. Remind us that we are also a part of science, for we are made of dust. BUT, we are definitely the crown of God's creation! Please help us to never become a proud and arrogant species, but always to remember our shortcomings and hope in You. We thank You and adore You. We ask all of these blessings in the matchless Name of Jesus…Amen and Amen!
Scripture Lesson: "What is man that You are mindful of him, the son of man that You care for him? You made him a little lower than the heavenly beings and crowned him with glory and honor. (Psalm 8:4-5)
Click http://www.tgifmasterminds.wordpress.com every Friday for a new post from The Master's servant manager…Me!