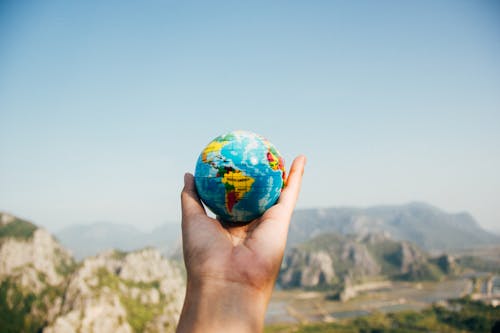 He's got the whole world in His hand!
Did you know that both sinner and saint, believer and non-believer, male and female, and false prophets and men who prophesied truth have all confessed at one time or another that "God is able to provide deliverance"? And also, did you realize that when they do acknowledge that God is able to overcome any and all adversities, these witnesses give us an unforgettable lesson in faithfulness and God's goodness and mercies.
Allow me to pose another question to you:
Has there ever been a time in your life when an enemy/foe has overpowered you and rendered all your efforts of survival helpless and you found that your only weapon against your foe was to face destruction with your convictions and faith in tack?  Always remember that no weapon formed against you shall prosper… (excerpt from Isaiah 54:17)
I, personally, am grateful for recorded events and heroic stories retold by sages, eyewitnesses, or old wives tales, for without a doubt, they have been the cornerstone, seed and foundation of the church.
As I write this week's blog, I am reminded of a specific event that is happening in our Nation today.  With the spread and devastation of the Corona virus, whether you agree with the methods put forth to curtail it or not, most everyone agrees that our Nation's fate is in God's hands and he and he alone is able to provide the relief and instructions to deliver and bring us out.
The most revealing Bible story that bares me out is found in the Old Testament Book of Daniel, Chapter 3; the story of three young Hebrew boys whose Babylonian names were Sharach, Meshach and Abed-nego.  They refused to bow down in a worshiping posture to the Babylonian king's golden statue.  In spite of the fact that if they did not obey the king, they faced certain death, they put their trust in God and chose to disobey the king's orders.
This defiance infuriated the king and he commanded that the young men be put to death by fire.  So the king ordered the furnace to be preheated seven times hotter than its usual temperature.  But in spite of that, the faithful boys were not afraid to face death because they knew that God was able to provide a method of survival.  And if not, they would never the less, bow down.  Subsequently, they were joined in the furnace by a fourth 'Mystery Person' who fanned the flames and reduced its temperature.  When the king saw this miracle, and perceived that the fourth Person was an Angel, he immediately commanded that the boys exit the furnace alive, and was amazed to see that they were unscaled by the smell of burnt clothing and hair.  Consequently, the three Hebrew boys  found favor with the king for their tenacity and strong commitment.
The moral of the story:
Some people believe that no situation has yet arrived in our Nation that calls for believers to personally demonstrate the scripture recorded in John 15:13:  "Greater love has no one than this, that he lay down his life for his friends."  Not even the nearly 144,000 Covid-19 deaths so far recorded in the USA, seems severe enough for someone to cry out in prayer, 'Here am I, Lord, take me instead.'
Well, that prayer might seem a little extreme, but we can all certainly pray the prayer of Jabez, found in 1 Chronicles 4:9-10:  'Oh, that You would bless me indeed, and enlarge my territory, that Your hand would be with me, and that You would keep me from evil, that I may not cause pain.'  
If the prayer of Jabez was our prayer, too, and the Lord granted it, we could oblige Him by extending our efforts to search out the needy, give comfort to the downhearted and encouragement to the down trodden.  I'm sure with God's help and provisions, we all could make a difference during Covid-19.
Please allow these pictures to help me tell my story:
     Sharing time with family.                                                   People volunteering. 
     Protect yourself & others.                                                     Wash hands often.   
           Why do these things?  To please our Provider!  And become an overcomer!
Scripture Lesson:   Nebuchadnezzar responded and said, "Blessed be the God of Shadrach, Meshach and Abed-nego, who has sent His angel and delivered His servants who put their trust in Him, violating the king's command, and yielded up their bodies so as not to serve or worship any god except their own God." Daniel 3:28
Click http://www.tgifmasterminds.com every Friday for a new post from the Master's servant manager…ME!