It's good to reminisce sometimes…don't you think? You know, just to kick back and allow your mind to wander and to recall an assortment of events that have taken place in an earlier time in your past life. And, yes, your mind will conjure up some good times and some bad times and some regrettable times. Well, I found myself doing just that as I settled down to write this week's blog. And of course, the Holy Spirit wasted no time in connecting me with the Second Person of the Trinity. Jesus Christ.
My first thoughts were of my (deceased) paternal grandmother. I remembered (when I was a youngster) how she loved for me to comb and scratch her hair in the afternoons as she sat in her wooden porch swing and hummed her favorite hymns. I loved that assignment because I dreamed of becoming a hairdresser when I grew up. Next, a scary and frightful thought crossed my mind as I remembered riding in the back seat of a car being driven by a neighbor and his wife. We were driving pretty fast on the express way when all of a sudden, the front hood of the car came unlatched and flew back onto our windshield and momentarily blinded the driver. We all started screaming. Somehow, the driver was able to safely steer the car over to the far right lane and onto the grass. I saw several cars veering around our car in an attempt to avoid a collision. Miraculously, no one was hurt.
My next thoughts were mostly about my later years when I became more active in my church. People would ask me how I remembered so much background about lineages and genealogies in the Bible or be able to ascertain the direction a particular character in the Bible would pursue. I remember telling that person that I always studied the Bible with a pencil and paper near by and I would jot down thoughts that would enter my mind concerning the chapters I read. To this day, I still study like that.
And that habit is what steered me to write about eagles in today's blog.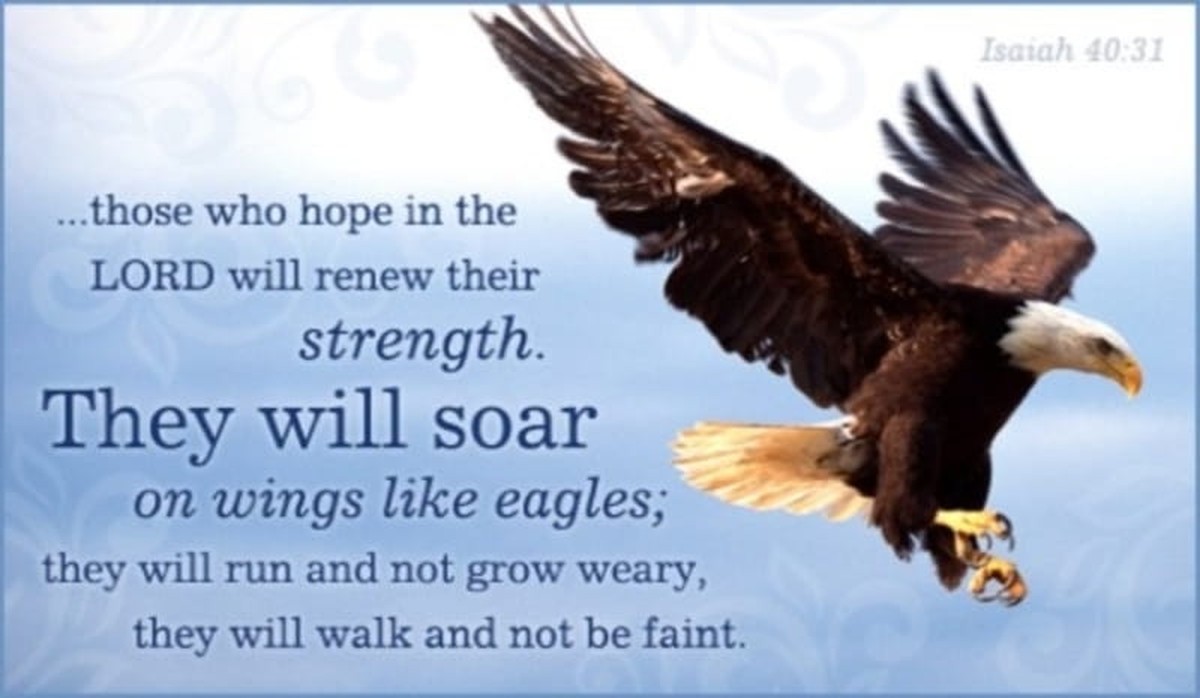 As I began to catalogue the 'eagle' scriptures, I began to realize that God had been carrying me on eagle's wings all my life. God had been my protector from all hurt, harm and danger. I also realized that though I may exalt myself like an eagle, there is no cleft in a rock where I can hide from Him.
Some Little Known Facts About The Eagle's Nest
                         By S. L. Fowler

Most birds build only one nest per year
Which cradles their eggs to be hatched
But some birds build two or three new homes in a season
Because they are more industrious than the rest.

The Bald Eagle uses the same nest year after year
And is known to be a monogamous creature
This bird of prey possesses keenness of vision
Which helps her to spot her prey and make wise decisions.

America's national symbolic bird builds her nest
High in the cleft of mountaintops or in a very tall and sturdy tree
And each year the eagle keeps the nest in repair
By applying more and more materials to the existing aerie.

You can imagine that in just a few short years
After continuously adding new branches and mud
The eagle's nest would be so massive and heavy
Many scientists believe it could possibly weigh a ton.
As I studied the Holy Bible, I became mesmerized with God's word and just how much he had to say about birds and especially eagles. And once when I was a member of a writer's group, I wrote the above short poem about the eagle. The bible's depiction of eagles is voluminous: they are creatures of strength; having broad wings of protection; keen eye sight for searching; the capability to soar to great heights; wreak havoc with his mighty claws; and remain for a life-time with one mate and one nest. But what is most amazing about the eagle is that it can hide from predators by flying directly into the blinding glare of sun rays.
My prayer for you…
Dear Heavenly Father, how wonderful it is that You speak to us personally through Your Word, during our life time. And that we can respond to You metaphorically through the Word. It is our desire that You teach us to spend more time with You in this way and to hear Your voice speaking to us personally each and every day of our lives. Amen.
Scripture Lesson: "The terror you inspire and the pride of your heart have deceived you, you who live in the clefts of the rocks. Though you build your nest as high as the eagle's, from there I will bring you down," declares the Lord. Jeremiah 49:16
Click http://www.tgifmasterminds.com every Friday for a new post from The Master's servant manager…Me!