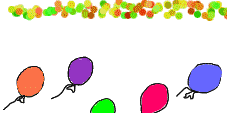 How many suggestions have you received from well-meaning friends, lecturers, gurus, media or family members and counselors advising you to write down your pain on a piece of paper and then burning it or just throwing it away?  I personally have suggested that a person jot down their mental dilemmas on a piece of paper, stuff it into a helium balloon, go outside and release it into the air.
(One female participant in the exercise swore that a stubborn balloon that refused to catch an air wave and ascend upward, struggled unsuccessfully to return to earth and to occupy her mind-set again.  She said that it was only after she screamed at it and called on Heaven's angels to command it to flee, that she was victorious in ridding herself of her demons.) …I would say that was a serious Sister!
So, my question is; whichever method you deployed, to rid yourself of worrying, did it work?
God has a plan!
For Christians, the Holy Bible is a road map on just how we should handle fretting, worrying, anxieties and pity-parties.  Listed below are just a few scripture references:
"Heaviness in the heart of man maketh it stoop:  but a good word maketh it glad." Proverbs 12:25
"Cast thy burden upon the Lord, and he shall sustain thee; he shall never suffer the righteous to be moved." Psalms 55:22
"Cast all of your care upon him; for he careth for you." 1 Peter 5:7
Honestly, no matte
r how much you pray, quote or memorize those scriptures, unfortunately it's hard to banish intrusive and negative thoughts from your mind.  But fortunately, there is a way you can tackle and flip your fears into compliance that leads to a positive solace
First, let's examine the mantra of a children's bedtime story about a little engine that could.  If my memory serves me right it was, "I think I can…I think I can!"  Now, is that your mantra or is your motto, "If something can go wrong, it probably will"?
Let's kill Kill-Roy!
The latter kind of catastrophic thinking is deadly and depletes your mental resources of embracing any positive turn of events.  I'm certain you have heard all the above rationales before concerning how to curtail worrying, but what about those negative and crippling memories that you have forgotten you buried?  Those are the culprits I want to address.  Why?  Because nine out of ten times, baptized believers are guilty of clandestinely bringing those types of silent unresolved issues into the church body and wreaking havoc within the congregation clandestinely.
God enlightened me at VBS
Recently, during my adult Vacation Bible School class, I heard the teacher refer to these types of church members as  'wounded warriors'.  He also taught that there was hope for these struggling saints who unknowingly fostered resentment and pain against others.  The teacher compared their situation with Christ Jesus', Who was also a Wounded Warrior, but in a much more productive and positive way.
The biggest burden for Christ Jesus, mankind's Supreme Warrior, was 'The Hour'.  Also referred to as 'My Hour', or 'The time'.  Jesus was fixated on getting the timing right, the place right, the reassurance confirmed that this was exactly the sacrificial act  His Father wanted Him to perform.  The heavy burdens and cares that Jesus Christ bore were all for somebody else…US!  The suppressed burdens we carry are often malices against ourselves and/or others.
"But he was wounded for our transgressions, he was bruised for our iniquities; the chastisement of our peace was upon him; and with his stripes we are healed."  Isaiah 53:5
The example Christ Jesus gave me in our conversation about this subject was an incident He had with His Mother.  'When My Mother worries, my child, I worry.  And there was a time when She was afraid that a party We attended would run out of wine.  ALL I HAD TO DO TO DEFUSE THE MATTER WAS TO TURN THE PHYSICAL (6 jars of water) INTO MY CLEANSING BLOOD (sweet wine).  All everybody in attendance had to do was to draw from it and drink!  For My yoke is easy and My burdens are light!'  (Matthew 11:30)
In conclusion
As I said earlier, most of us don't even realize we are carrying old unresolved baggage in our hearts and minds.  I implore you to find a quiet and safe place where you can go to center yourself and have a little talk with Jesus.  Ask Him to reveal your 'wrinkles', your bumps and bruises, your idiosyncrasies from your childhood to the present day.  Find two or three friends who you can confide in and who know how to call on the Name of Jesus, and who you have heard confess intimate situations in their lives.  In other words, find some 'healed' wounded warriors to walk with you.  For where two or three are gathered, in the Lord's Name, He is in the midst.  (Matthew 15:20)
God requires more of us than just to except justice, be merciful and love kindness.
Follow these three steps, remember Jesus' Mother's dilemma and you will be operating in God's plan with a remedy:
Look up:  Engage the Holy Spirit and repent.
Look inward:  Guard your personal wellbeing by confessing Jesus Christ and employing His teachings.
Look outward:  After you have been set free, help your community of sojourners find their inner strength.
Scripture Lesson:  "Let your gentleness be apparent to all.  The Lord is near.  Be anxious for nothing, but in everything, by prayer and petitions with thanksgiving, present your requests to God.  And the peace of God, which surpasses all understanding, will guard your hearts and your minds in Christ Jesus."  Philippians 4:5-7
Click http://www.tgifmasterminds.com every Friday for a new post from the Master's servant manager…ME!