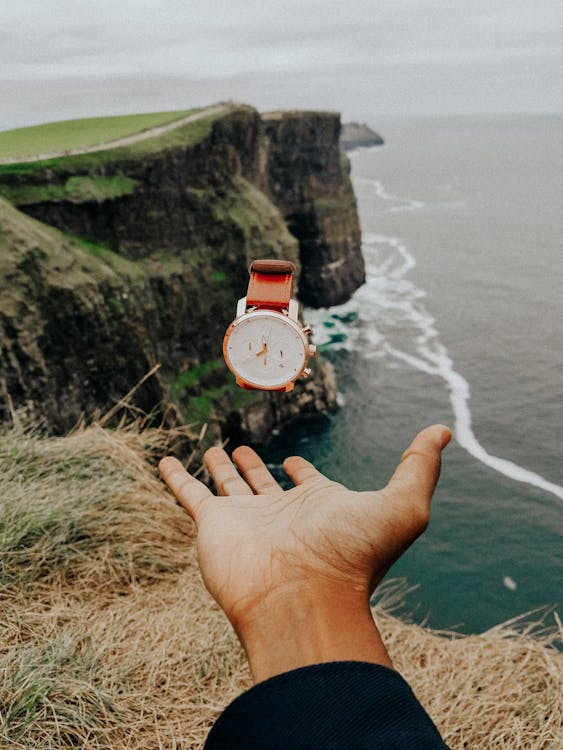 Sometimes you just gota know. Yes, you just want to know what time it is…especially when it has to do with Eschatology. The definition of Eschatology is the study of what the Christian Bible says is going to happen when this world comes to an end. End time prophecy is sprinkled throughout the verses in the Bible, but the main biblical chapters that compiles the most information about this mystery is found in the Book of Revelations, followed closely by the Book of Daniel.
Currently, my bible study group is reading and praying over the verses in the Book of Revelations, and while I was studying and meditating over Chapter 19, the Holy Spirit blessed me with the most revealing interpretation of verse 19:7 which reads: "Let us rejoice and be glad. For the wedding of the Lamb has come, and his bride has made herself ready ."
Now, I'm just sayin'…this early morning encounter with the Holy Spirit was completely 'out of the blue' and certainly unexpected. The Spirit said to me STOP! In the Name of Love and understand what you are reading. A marriage is about to take place. Who is getting married and to whom or to what?
Spontaneously, I spoke out loud and said, The Lord Jesus Christ is about to celebrate in marriage His reign over government rule, along with His gift of salvation! For to me, that was the "what". (Read Revelations 19:2. ) Immediately, my thoughts went to Isaiah 9:6, and John 3:16-17.
"For unto us a child is born, to us a son is given, and the government will be upon his shoulders. And he will be called Wonderful, Counselor, Mighty God, Everlasting Father, Prince of Peace." Isaiah 9:6

"For God so loved the world that he gave his one and only Son, that whoever believes in him shall not perish but have eternal life. For God did not send his Son into the world to condemn the world, but to save the world through him. Whoever believes in him [by receiving His gift of Salvation] shall not perish but have eternal life. For God did not send his Son into the world to condemn the world, but to save the world through him." John 3:16-17.
While Jesus Christ lived on earth, you will recall that the Lord spoke these words to His disciples: "Jesus said to them, 'Render to Caesar (the Government) the things that are Caesar's, and to God (Spiritual things) the things that are God's.'" Mark 12:17
At that time, the Israelites thought Jesus came to earth to overtake the Roman government through war tactics and if He did, the Israelites would be exempt from paying Roman taxes. But It was not within God's timing for his Son to annihilate "Babylon" (governments) just then, and institute Jesus' Second Coming as predicted in Revelations.
So, once again, I am asking (having a conversation) with the Holy Spirit…then, what time is it?
Dear Readers of this blog…I don't know if you also have these kinds of in-depth conversations with our God, but I do. True, I veered off from the type of blog post I usually write each week, but I ask that you forgive me. Perhaps the interpretation I received from the Holy Spirit for Revelations 19:7 is way off the mark according to what the scholarly biblical Eschatologists believe. And I get that! But I'm just sayin'… that explanation is what the Holy Spirit gave me.
Dear Heavenly Father, I read in Psalm 130 where David said that he called to You from the depths of his crises. And that he put his faith in You and trusted You and also waited for Your fulfillment of Your Word. That's my prayer, too, Precious One. Not only for myself, Lord, but for all those who call upon Your Holy and All-knowing Name as their Counselor. For my research tells me, My Lord, that while You were here on earth, approximately 200 times trick questions were asked of You, but You only gave direct answers to about 3 of them. So, therefore, Dear Jesus, I await patiently, for You to make it plain to me the revelations of Revelations. And in the meantime, I will continue to study and pray to show myself approved. I ask it all in the precious Name of Christ Jesus. Amen and Amen!
Scripture Lesson: "I wait for the LORD, my soul waits, and in His word I put my hope. My soul waits for the Lord more than watchmen wait for the morning, more than watchmen wait for the morning." Psalm 130:5-6
Click http://www.tgifmasterminds.wordpress.com every Friday for a new post from The Master's servant manager…Me!